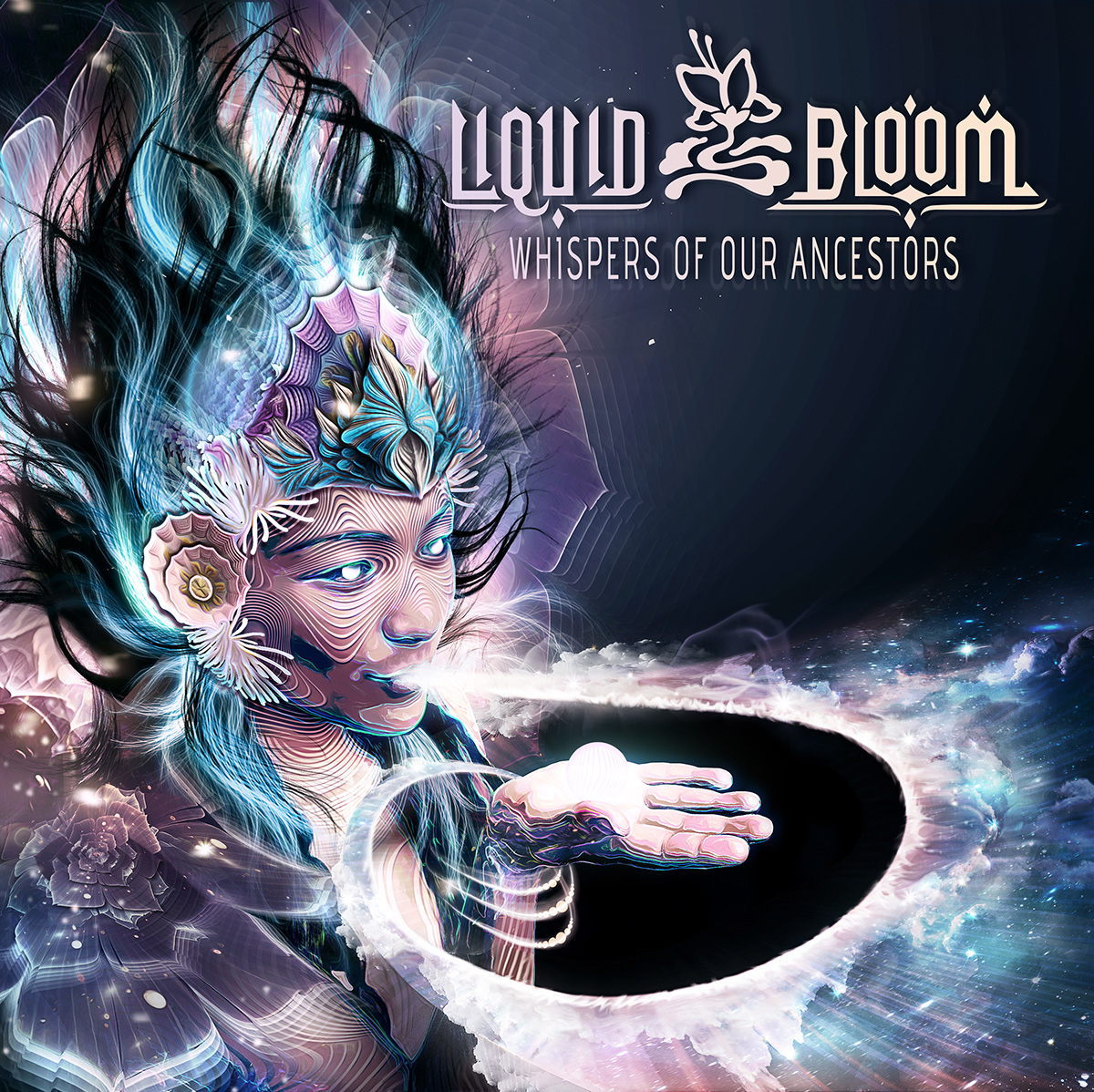 Review: Whispers Of Our Ancestors
December 4, 2018
Words By Christian Cortes (SoundScrybe)
Original Artwork by Abzzolum
Official Release Date – December 14th on Desert Trax
The end of 2018 brings a new chapter to Liquid Bloom's remix story as producer Amani Friend hands the reigns of one of his very first tracks over to nine rising and eminent producers from the realms of downtempo and psychedelic bass for a contemporary re-imagining. Whispers of Our Ancestors Remixes is the tale of a single journey told through nine different perspectives, each offering their own interpretation of the meditative soundscape first envisioned by Amani over twelve years ago.
Like most of Liquid Bloom's original tracks, "Whispers of Our Ancestors" draws upon a myriad of soothing instrumentals, delicate vocals, and elemental samples to create a musical landscape inspired by the shamanic experience and intended for inner exploration. Colored with gentle intrusions of Native American flutes and rattles, Indian-style stringwork, and hauntingly beautiful chanting— the track has offered its remixers a trove of provocative samples to guide their unique sonic visions.
Within the collection, listeners encounter everything from broken-beat chillout and psychedelic bass to slow-house rhythms and techno-styled progressive beats. Connected by the defining features of the original track—especially the chanting and flutes—each remix uses distinct beat and bass elements to shape their tracks and explore the boundless layers hidden within the source material.
Among the more expansive remixes, Master Minded offers up a hallucinatory array of fresh tribal instrumentals and energetic synths backed by an indulgent broken beat, while Ancestral Elephants adds a soothing beat progression that relishes in the slow and hypnotic potential of Liquid Bloom's iconic soundscapes. Desert Tracks label artist Stratusphere explores the delicate and emotive aspects of Whispers with a richly textured psychill interpretation that could easily serve as an opening track to an emotional live performance.
On the dancier side of the spectrum, past Liquid Bloom collaborator Drumspyder adds his signature drum styling and lively stringwork in an energetic, house-styled interpretation ready for the dance floor. On a similar wavelength, Desert Trax artist Griffin Paisley brings his ethereal "slow house" styling to the collection in an atmospheric journey ripe for morning explorations on a dusty dance floor.
Downtempo producer and instrumentalist Momentology comes together with DJ Taz Rashid to offer up two profoundly different remixes: One, a progressive techno-styled dance floor tune, the other, a slow and expansive "yoga dub" revision that plays off the space and energy of the original composition. Complimented by a downtempo remixes by Moon Frog and a spacious exploration produced in the flavor of the original track by IDM artist Erothyme, Whispers of Our Ancestors Remixes reveals just how deep Liquid Bloom's journeys can go when viewed through an individual lens.
2019 promises a range of new music and performances by Liquid Bloom as compositions between Amani and his collaborators—most notably instrumental and vocal-looping wizard Poranguí as well as mid-tempo psychedelic bass producer Kaminanda—move out of the studio and into live productions and DJ sets around the world. With a Liquid Bloom world tour currently underway and an EP of all-new material due out on Desert Trax later in the year, followers can expect a full range of new sonic experiences from this blossoming music project for many seasons to come.