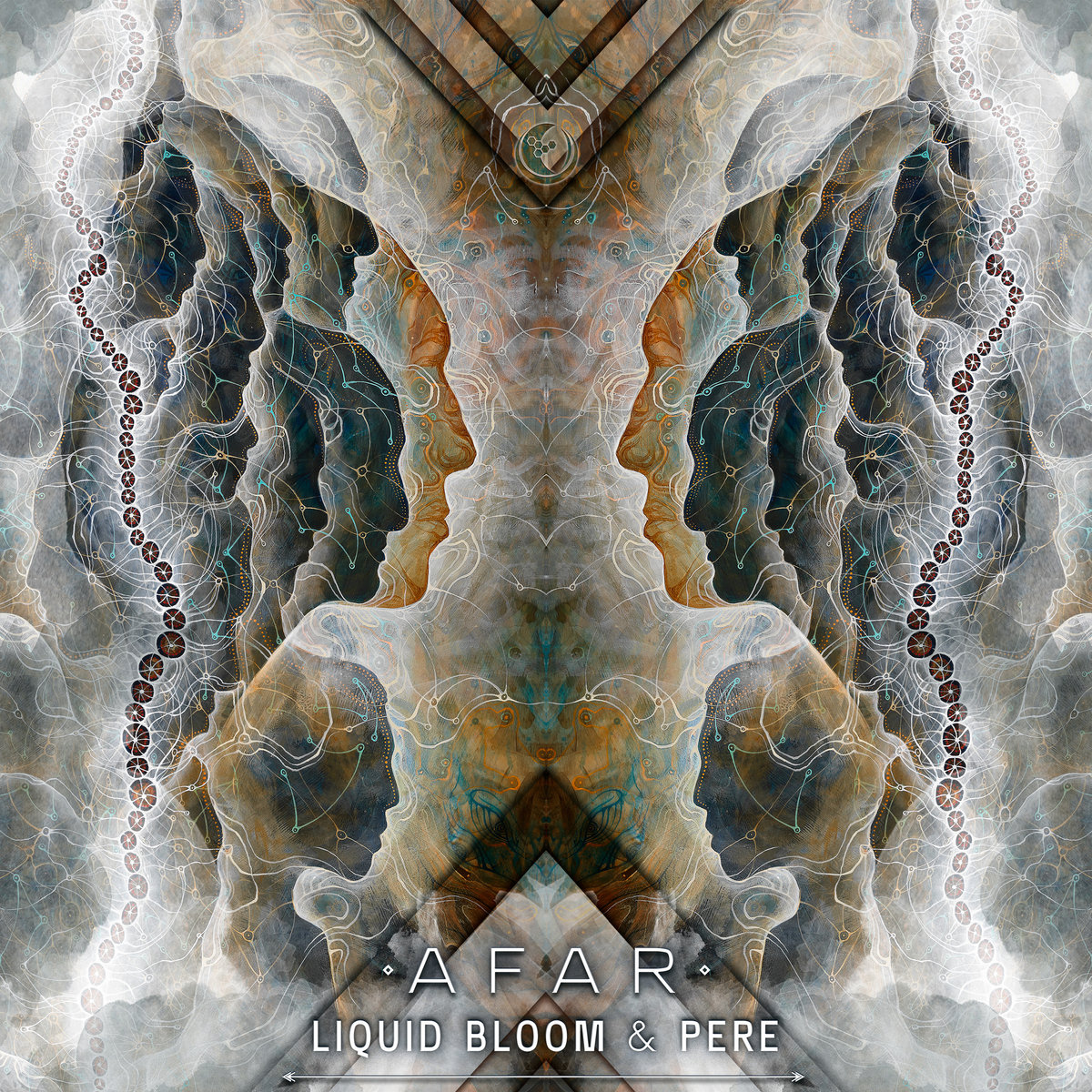 New Album "Afar" – Liquid Bloom & PERE
July 30, 2021
Bringing the rhythms of the natural world to the modern dance floor, Liquid Bloom and PERE (Shahar Amit) unite their distinct musical backgrounds into the immersive story called 'Afar.' Presented in eight vivid tracks that infuse organic instruments and ancient songs with the trance-inducing energy of progressive electronica, the collection highlights each artist's deep passion for the sounds of the world as well as their iconic approaches to musical storytelling in the digital age.
Opening the album, the journey of "Nubra" takes us through deep ambient spaces, percussive grooves, and the elegant and haunting tones of the sarangi and dotar, establishing a balance of organic and digital elements that pervades the collection. Stepping further into this hypnotic space, tracks like "Overgrown" and "Riding Through" showcase the fiery side of the album, merging acoustic instrumentation with heavier electronic themes that are primed for peak moments on the dance floor.
"Kingfisher" featuring Australian multi-instrumentalist Si Mullumby demonstrates the duo's creative mixing of natural sounds and instruments for a walkabout into the wilderness, while "Pájaro Azul's" uplifting balance of charango, flute, and tranquil vocals courtesy of Isla Espiral spotlights the Latin American musical influences at play in the collection. "Ufawatu" featuring African music master Chris Berry is a playful song that translates as 'the dream of life in the sacred waters.' Japanese vocalist Madi Sato guides the album out of the wildness with the emotional and cinematic 'Lion Dance' anthem that is "Azuma Jishi."
If 'Afar' opens slowly, the final track, "Refuge," ends like glowing embers of Samadhi, echoing and honoring the immense passage of emotion that has transpired through PERE and Liquid Bloom's offerings. The full effect of the duo's musical fusion is best felt here, where the recognizable coalesces with the imaginary in a cinematic coda that displays each producer's alchemical approach to psychedelic sound design and guides the album back into the silence from which it all emerged.
Released July 30, 2021